Description: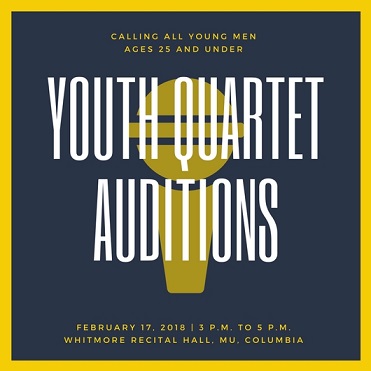 The Boonslick Chordbusters will be hosting a youth quartet contest in April, for which the winning quartet will be awarded a prize of $400. In order to help interested singers form into quartets, we are holding an audition event in conjunction with the Zeta chapter of Phi Mu Alpha, February 17th at Whitmore Recital Hall.

Participants at the audition event will meet other singers and hopefully be matched with three others to form the quartets. These quartets would then be able to enter the quartet contest in April. In the meantime, all participants are invited to join the Chordbusters for our weekly rehearsals and gain experience singing a cappella in the barbershop style.

While the contest is open to both young men and women, the audition event is only open to young men at this time. (Young women may wish to seek out our friends in the Heart Of Missouri women's chorus for additional experience.) All participants in both events should be ages 25 and under, since these are youth-oriented events.

For more information about the auditions, please contact Jim Hillbrick: jrhillbr@hotmail.com or 360-632-9548. Keep an eye on our website for more information about the contest coming later!